Description
Description
Pennzoil Lighted Wall Clock 14 x 14 Inches
The Retro Pennzoil Lighted Wall Clock has the look of a classic neon-lit wall clock and features a design that was once a common feature in Pennzoil filling stations. The clock pays tribute to Pennzoil, the American brand of motor oil that has been a favorite amongst mechanics and plain old car buffs since 1913.
The wall clock combines classic vintage design with modern innovation to create a clock that will accurately track the time and continue to look attractive in your space for years to come.
Perfect for collectors and for commercial spaces, Retro Pennzoil Lighted Wall Clock features a design created with cutting edge technology, including a CNC system and a sophisticated computer-based UV printer.
The image is guaranteed to last beautifully and is protected by an optical lexan that will not yellow over time. Three removable rivets keep the lexan in place over the case, which is made of black impact-resistant plastic.
The housing holds the wall clock's fluorescent circuline bulb, and an on-off switch controls the light. The clock is backed by a one-year warranty and measures 14 inches in diameter. Its weight is 7 pounds.
Here are some features of our backlit clocks.
Best backlit clock on the market
Brightest clocks anywhere
Beautiful printing
14 inches across
Clear Lexan outer lens
Plugs into any 110 outlet
On / Off switch in cord
Quarts movement runs from AA battery
Perfect for the collector
1 years manufacturer warranty
Made in the USA

The lighted clock's profile: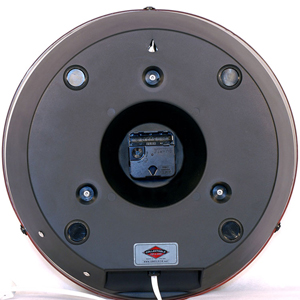 Reviews
Reviews (0)
Be the first to review this product.
Additional Info
Additional Info
SKU:

812194
Condition:

New
Availability:

Usually ships next business day
Availability:

- Usually ships next business day.
Related Products
SKU# GMRE1009264
SKU# GMRE811190
SKU# GMRE903203