Description
Description
Mobilgas Lighted Wall Clock 14 x 14 Inches
In 1911, Mobilgas was formed, creating a legacy that continued through 1999 when the company was purchased by Exxon. A giant in the gasoline industry in its heyday, Mobilgas was known for its logo, a majestic pegasus rendered in bright red. Although the winged horse is no longer seen at the remaining Mobil stations, the image is a part of advertising history and still highly recognizable to classic car buffs.
The Retro Mobilgas Lighted Wall Clock pays tribute to America's classic filling stations with a design that incorporates the Mobil pegasus. The striking red symbol is printed onto the clock with UV-resistant ink via a computer, ensuring its longevity.
Manufactured in the USA, the wall clock measures 14 inches in diameter and weighs 7 pounds.
The housing of the clock is crafted from durable ABS plastic, and an optical lexan protects the face. The lens is treated to not yellow with age and is kept securely in place by a trio of rivets.
Powered by one AA battery, the clock features a 22-watt fluorescent circuline bulb that illuminates the face when the clock is switched on.
Clock features & specs:
Here are some features of our backlit clocks.
Best backlit clock on the market
Brightest clocks anywhere
Beautiful printing
14 inches across
Clear Lexan outer lens
Plugs into any 110 outlet
On / Off switch in cord
Quarts movement runs from AA battery
Perfect for the collector
1 years manufacturer warranty
Made in the USA

The lighted clock's profile: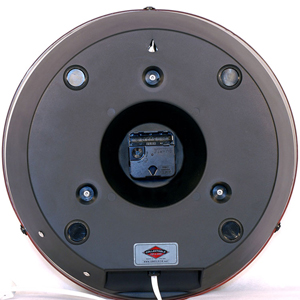 Reviews
Reviews (0)
Be the first to review this product.
Additional Info
Additional Info
SKU:

710077
Condition:

New
Availability:

Usually ships next business day
Availability:

- Usually ships next business day.
Related Products
SKU# GMRE1009264
SKU# GMRE811190
SKU# 905212