Description
Description
Santa Fe Railroad Lighted Wall Clock 14 x 14 Inches
In 1859, the Atchison, Topeka and Santa Fe Railway was chartered, and for more than 100 years after, carried passengers and freight all over the Southwest and Midwest. Although the railway ceased operations in 1996, the trademark logo of Santa Fe still remains well-known. The blue and white Santa Fe logo is the focal point of the Retro Santa Fe Railroad Lighted Wall Clock, a stylish timepiece outfitted with a 22-watt fluorescent backlight. The 14-inch round wall clock is a great gift for train buffs, and its light can be turned on and off with the provided switch.
The Retro Santa Fe Railroad Lighted Wall Clock is crafted with the latest manufacturing techniques to make it an incredibly durable timepiece. A computer-controlled system that uses UV-dried inks produces the design on the face, which is protected by a yellow-proof and scratch-resistant lexan.
The lens is fastened to the black ABS plastic case by a trio of removable metal rivets. Weighing 7 pounds, the clock runs on a single AA battery.
Clock features & specs:
Here are some features of our backlit clocks.
Best backlit clock on the market
Brightest clocks anywhere
Beautiful printing
14 inches across
Clear Lexan outer lens
Plugs into any 110 outlet
On / Off switch in cord
Quarts movement runs from AA battery
Perfect for the collector
1 years manufacturer warranty
Made in the USA

The lighted clock's profile: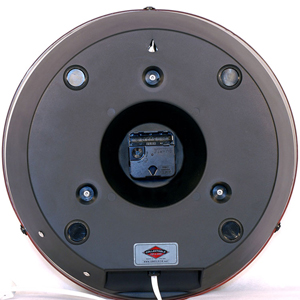 neon signs and clocks
Reviews
Reviews (0)
Be the first to review this product.
Additional Info
Additional Info
SKU:

710106
Condition:

New
Availability:

Usually ships next business day
Availability:

- Usually ships next business day.
Related Products
SKU# 710097
SKU# BOR1408541
SKU# BOR1408536