Description
Description
Sinclair Aircraft Lighted Wall Clock 14 x 14 Inches
In the 1940s and 50s there was one fuel trusted by more pilots than any other--Sinclair Aircraft. The American petroleum company was well known for both its high quality fuel and green and red logo. That logo is featured here on the face of the Retro Sinclair Aircraft Lighted Wall Clock in bright colors produced with UV-dried inks. Because the face is made with a CNC router, the image is incredibly precise and highly detailed. To give the clock a retro look, the design includes a 22-watt fluorescent backlight, which shines brightly when the on-off switch is deployed.
Powered by quartz crystal movement and a single AA battery, the 14-inch Retro Sinclair Aircraft Lighted Wall Clock is contained in black ABS plastic case joined to a scratch-resistant protective front by a trio of removable metal rivets. The lexan front is of the finest quality and treated to prevent discoloration with age. The vintage-inspired wall clock weighs 7 pounds and is easy to mount on virtually any wall surface.
Clock features & specs:
Here are some features of our backlit clocks.
Best backlit clock on the market
Brightest clocks anywhere
Beautiful printing
14 inches across
Clear Lexan outer lens
Plugs into any 110 outlet
On / Off switch in cord
Quarts movement runs from AA battery
Perfect for the collector
1 years manufacturer warranty
Made in the USA

The lighted clock's profile: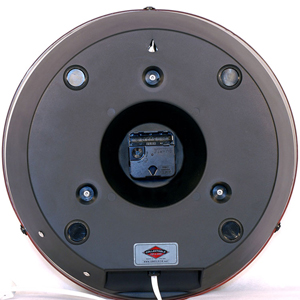 Reviews
Reviews (0)
Be the first to review this product.
Additional Info
Additional Info
SKU:

1102295
Condition:

New
Availability:

Usually ships next business day
Availability:

- Usually ships next business day.
Related Products
SKU# GMRE1009264
SKU# GMRE811190
SKU# GMRE903203