Description
Description
US Navy Lighted Wall Clock 14 x 14 Inches
For your favorite servicemember's birthday or in celebration of Veteran's Day, present him or her with the Retro US Navy Lighted Wall Clock, a striking tribute to the U.S. Navy. The clock proudly bears the U.S. Naval Seal in vibrant colors produced with UV-dried inks, which will remain true and vivid just the way a Navy seaman's patriotism and devotion to our country do year after year. The stylish wall clock measures 14 inches in diameter and weighs 7 pounds, so its size is ideal for serving as the focal point along any wall.
The Retro US Navy Lighted Wall Clock is constructed with exacting attention to detail to create a clock that is as durable as it is stylish. The black ABS plastic case is strong and sturdy, allowing it to provide ample protection for the time-keeping mechanism and the 22-watt fluorescent bulb inside of the backing. A scratch-proof lexan front keeps the face safe from damage and can be easily removed for cleaning by loosening the three bolting rivets included in the design. The clock runs on one AA battery.
Clock features & specs:
Here are some features of our backlit clocks.
Best backlit clock on the market
Brightest clocks anywhere
Beautiful printing
14 inches across
Clear Lexan outer lens
Plugs into any 110 outlet
On / Off switch in cord
Quarts movement runs from AA battery
Perfect for the collector
1 years manufacturer warranty
Made in the USA

The lighted clock's profile: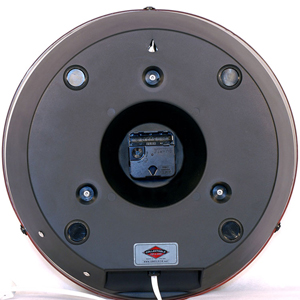 Reviews
Reviews (0)
Be the first to review this product.
Additional Info
Additional Info
SKU:

910229
Condition:

New
Availability:

Usually ships next business day
Availability:

- Usually ships next business day.
Related Products
SKU# GMRE1009264
SKU# GMRE811190
SKU# GMRE903203