Can you make your products using a custom image?
Yes we can put your custom graphic or image on these sizes:
Portrait mode:
8" W x 14" H $124.00
12" W x 18" W $149.00
16" W x 24" H $174.00
24" W x 36" H $199.00
Landscape mode:
14" W x 8" H $124.00
18" W x 12" H $149.00
24" W x 12" H $159.00
24" W x 16" H $174.00
36" W x 24" H $199.00
14" round $124.00
28" round $199.00
20" W x 5" H $124.00
24" W x 8" H $149.00
28" W x 6" H $149.00
Specs and Features:
This Metal sign is hand made in the USA.
Heavy gauge American steel.
Process known as sublimation, where the image is baked into a powder coating for a durable and long lasting finish. It then undergoes a vintaging process by hand to give it an aged vintage look and feel.
This metal sign is drilled and riveted for easy hanging.
For indoor use only.
I want to make a product with my image and I have the final art already created. Is there an art setup fee?
No there is no set-up fee.
What format do you prefer to work with?
Please submit all artwork/images in the following PC compatible formats: .jpg, .tif, .psd, .pdf, .ai, or .eps
Make sure you send us the correct file format. Remember the higher-resolution the better. 300 dpi will create the best possible result.
How long does it take to create the custom sign?
Most digital proofs are created within 7 business days. We will email you for approval before production starts. Actual product production takes about 10-14 business days from approval of artwork. Time will vary with the complexity of the specific product. We will keep you informed of your order status throughout the order cycle.
You have the option to select rustic or clean edges.
EXAMPLES:
Rustic. Clean.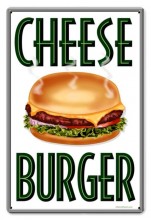 Custom Metal Signs For Home And Businesses
One unique touch that can be added to a business or a personal setting is custom metal signs. We provide a variety of different metal signs, such as humorous and fantasy signs, while providing our clients with the possibility of customizing their own unique metal sign. Metal signs can be a creative and fun way to get a message across or even aid in the advertising of a business. With a custom metal sign a homeowner or a business professional can add the saying that will suit their needs, adding the perfect image, and having a sign created in the size that they need.
There are a variety of different sizes, styles, shapes, and viewpoints that a client can choose from. The first choice that has to be made is if they want their custom sign to be in portrait mode or in landscaping mode. Each custom metal sign works well one way or the other.
After this essential choice is made then the shape, size, and finish types will need to be chosen. We provide a variety of different choices, looks, and prices for clients to choose from. When it comes to creating custom metal signs the possibilities are nearly endless.
These custom metal signs are handmade in the USA so quality comes with each customized sign. Made out of American steel, heavy gauge, and these signs undergo a variety of different finishing techniques that will give these signs a mystique that will lend a quality look to any indoor location. Riveted and drilled signs make these easy to be hung up in any indoor location.
There are no extra fees to set up the art images that have already been created. After the artwork is approved by us the production of the sign will usually take twelve to fourteen days to be completed.
Custom metal signs can be a creative way to add personality to a room. These signs will look create in a business or bar setting. Adding humorous aspects to the custom metal sign as well as having a professional edge can set a metal sign above the rest. Other locations that will work great for having a custom metal sign for different parts of a home including a game room, a den, or even a man cave. There are numerous locations in which these indoor custom metal signs will flow in seamlessly with the décor of an area.
By giving these signs a creative look with customized images and quotes our clients will be to choose which signs would work best for them, their personality, and for all of their needs. By getting in contact with us and submitting a design we will help to ensure that the best look possible can be added to a customized metal sign.